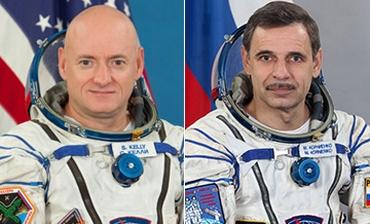 A veteran National Aeronautics and Space Administration space commander is set to make an out-of-the-world record by spending the most consecutive days in space by any American in a single mission.
Scott Kelly and Russian cosmonaut Mikhail Kornienko will launch aboard a Russian Soyuz spacecraft from the Baikonur Cosmodrome in Kazakhstan in spring 2015 and will land in Kazakhstan in spring 2016.
This mission will include collecting scientific data important to future human exploration of our solar system, NASA said in a statement.
The duo already has a connection -- Kelly was a backup crew member for the station's Expedition 23/24 crews, where Kornienko served as a flight engineer.
The goal of their year-long expedition aboard the orbiting laboratory is to understand better how the human body reacts and adapts to the harsh environment of space.
Data from the 12-month expedition will help inform current assessments of crew performance and health and will determine better and validate counter-measures to reduce the risks associated with future explorations, as NASA plans for missions around the Moon, an asteroid and ultimately Mars.
"Congratulations to Scott and Mikhail on their selection for this important mission," said William Gerstenmaier, associate administrator for Human Exploration and Operations at NASA headquarters in Washington.
"Their skills and previous experience aboard the space station align with the mission's requirements. The one-year increment will expand the bounds of how we live and work in space and will increase our knowledge regarding the effects of microgravity on humans as we prepare for future missions beyond low-Earth orbit," said Gerstenmaier.
"Selection of the candidate for the one year mission was thorough and difficult due to the number of suitable candidates from the Cosmonaut corps," said head of Russian Federal Space Agency Vladimir Popovkin.
"We have chosen the most responsible, skilled and enthusiastic crew members to expand space exploration, and we have full confidence in them," said Popovkin.
Kelly and Kornienko will begin a two-year training programme in the United States, Russia and other partner nations starting early next year.
Image: Scott Kelly and Mikhail Kornienko | Photograph: Courtesy NASA