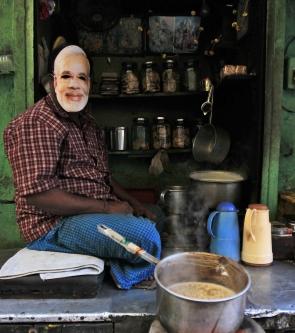 Bharatiya Janata Party's prime ministerial candidate Narendra Modi is all set to meet chaiwallas (tea sellers) across Karnataka.
Modi will hold 82 interactions with chaiwallas in the state via video conferencing.
The first event -- Chai pe Charcha (discussions over tea) -- will be held on February 12.
The event has been organised in 25 towns and 82 locations in the state.
The BJP is making arrangements at these tea stalls so that the chaiwallahs can directly interact with Modi.
The chaiwallas in Bangalore will get an opportunity to pose their questions to the Gujarat chief minister as well.
"Modi is pressed for time. It is an honour that he has agreed to do so much," a member of Karnataka's BJP unit told Rediff.com.
The BJP expects to hold Chai pe Charcha sessions across the country, in at least 30 locations, before the Lok Sabha polls.
Meanwhile, Congress leader Rahul Gandhi will also visit Karnataka around the same time and hold discussions with prominent editors from both print and electronic medium.
Gandhi will try to put forth the vision of the Congress through the interaction.
Photograph: Reuters