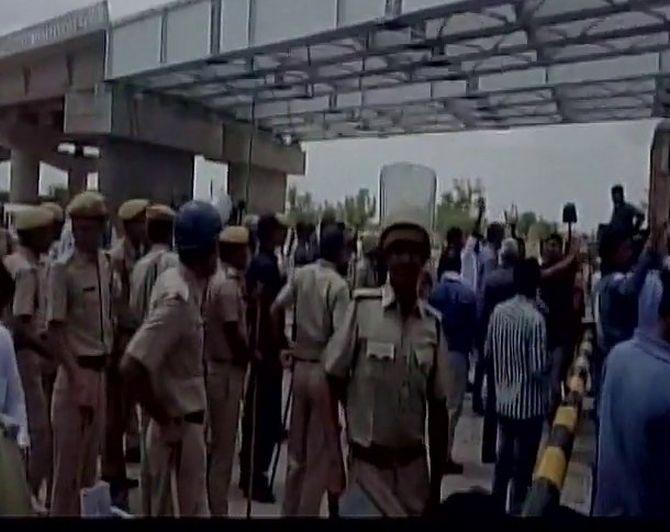 At least one person was killed and 25 others, including the Nagaur SP was injured, in clashes between police and members of the Rajput community demanding a Central Bureau of Investigation probe in gangster Anandpal Singh's death in Sanvrad village of Nagaur following which curfew has been imposed.
Additional Director General Law and Order N R K Reddy on Thursday said curfew was clamped late on Wednesday night in Sanvrad where tension prevailed during a rally called by Rajput community which turned violent.
Reddy said a man was killed in firing. However, he said that police did not open fire.
"In the clashes, 25 people, including Nagaur SP Paris Anil Deshmukh, IPS officer Monika Sen and 16 policemen sustained injuries," Reddy said.
Four of the injured were referred to Jaipur in a critical condition, police sources said.
The mob also confiscated an AK-47 and a service revolver from policemen.
Massive police deployment has been made and 10 persons have been detained, police said.
Scores of members belonging the Rajput community had reached Sanvrad on Wednesday, the native village of the killed gangster to press for their demand for a CBI inquiry in the police encounter in which he was killed.
Singh was killed in a police encounter on June 24 and the body is yet to be cremated.
Police sources said a large mob pelted stones on police while they were trying to maintain law and order. To control the agitated protestors, police first fired tear gas shells and cane charged them, but did not open fire, Reddy said.