Miss India 1997 Nafisa Joseph allegedly committed suicide at her home  in Versova, suburban Mumbai, late on Thursday. She was 25.
Gul Panang, Miss India 1999, remembers the bubbly model.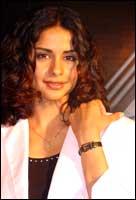 "I was watching a film on Zee and around 1 am I heard this breaking news that Nafisa had committed suicide and rushed to hospital.
I was completely shocked and did not sleep for a long time.
I remember I had done a fashion show in Kenya in September-October 1999 that was anchored by Nafisa.
Though I did not know her personally, I thought she had phenomenal self confidence, [and] was composed [in all situations]. She was eloquent and articulate as a compere/anchor and was very fit.
Today, you see thin girls and thinner girls. They go on crash diets to become thin, but what was admirable about Nafisa was that she worked hard to remain fit, not thin.
People think that models and those related to the glamour and film industry are subjected to a lot of stress. But there is stress in every job.
My father is a general in the army, my brother is a pilot for Jet Airways, they have stress too. There is not a single job that does not have stress.
It is about dealing with it and deciding when to switch off and not let it get to your head.
It is unfair to think that this only happens in this industry. It happens to many other young people too, who may not be famous."