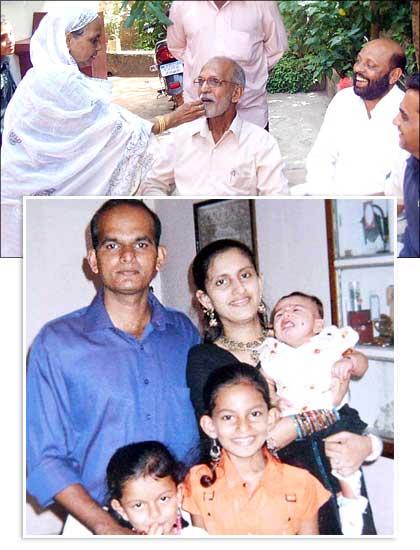 The 27-day-agony has finally come to an end for Sarang Mohammad Naeem's family from Kurupura-Kaikamba, at the outskirts of Mangalore, in Karnataka.
Naeem, 40, who was abducted by militants in Afghanistan, was rescued in an operation by security forces on Sunday.
Naem's father Saranga Mohammad Hussain told rediff.com, " I am overjoyed and I am too happy to react. My son will finally come back. We had prayed day and night for his release and several times, I had asked God why he had chosen this for us. I want to thank God profusely as our prayers have been answered."
"This is one of the happiest days of our lives. The pain and agony that we went through cannot be described. My children are equally overjoyed by the news of his return. I want to thank God and all those people who have stood by us through this time of misery," said Naem's wife Rafat.
On Sunday, Naeem's house wore a festive look, as neighbours and friends poured in to congratulate the family. Naeem's family members, who are planning to organise a get together after he returns home, distributed sweets to celebrate the news of his release.
The family members said that they are not sure whether Naeem would return to work in Afghanistan. They felt that it was his decision and they did not want to interfere in it, they said.
According to the family, Naeem was in a good condition and there was no cause for worry. An officer in Naeem's company told the family that he will come back home within two days, after the formalities were completed.
Text: Vicky Nanjappa
Photograph: KPN Photos