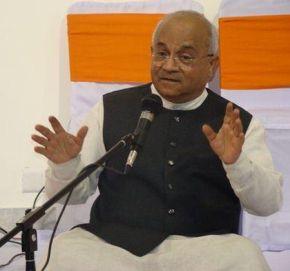 Senior journalist Ved Pratap Vaidik, who has been facing criticism from various opposition leaders across the nation over his recent meeting with 26/11 mastermind Hafiz Saeed on July 2 in Lahore, Pakistan, said on Wednesday that his interview to the Pakistani media has been portrayed by Indian journalists in a wrong way.
Clarifying his stand about a statement he had made about Kashmir and its separation from the country, he said he was talking freedom to the people of Kashmir, not separation.
Reacting to the ongoing controversy and criticism, Vaidik said that the Shiv Sena has misunderstood his views.
"Some of our immoral journalists have shown my interview to a Pakistan channel, by manipulating it. If Shiv Sena people will see the full interview, then they will appreciate it and will garland me. I have clearly said in my interview that separating Kashmir will be very dangerous. You should see my full interview on YouTube," said Vaidik.
He also favoured External Affairs Minister Sushma Swaraj for clarifying in the Lok Sabha on Tuesday that the government has nothing to do with the meeting. "Sushma Swaraj has done a very intelligent work. She clearly said that she has nothing to do with it and condemned it. She has closed the mouth of those who were speaking against it," said the senior scribe.
Vaidik added that he is not scared of anyone and is ready to follow all legal procedures, and if required, can even give a speech in the Parliament clarifying all the misunderstandings rising out of his interview.He has openly accepted that he had met Hafiz Saeed and had said that he is ready to share all records of his meetings in Pakistan.