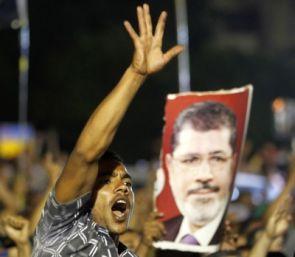 Egypt's military-backed government on Tuesday intensified its crackdown on the Muslim Brotherhood by arresting the group's spiritual leader, delivering a major blow to the Islamists demanding reinstatement of ousted President Mohammed Morsi.
Mohammed Badie, 70, the Supreme Guide of the Muslim Brotherhood, was arrested in an apartment close to Rabia al-Adawiya square, where Islamist supporters of Morsi held a vigil before it was cleared in a bloody crackdown by security forces last week.
The detention of Badie could throw the Brotherhood into further disarray as the Islamist group continues to protest the ouster of Morsi by the army on July 3. The Brotherhood quickly responded to the government's move by appointing Mahmoud Ezzat as the supreme guide of the group.
"Mahmoud Ezzat, deputy leader of the Muslim Brotherhood, will assume the role of supreme guide of the group on a temporary basis after the security forces of the bloody military coup arrested supreme guide Mohamed Badie," the Freedom and Justice Party website said.
Badie is facing charges of inciting violence and murder over the killing of eight anti-Brotherhood protesters outside the movement's headquarters in Cairo last June.
Badie was being taken to Tora prison, the same Cairo prison that former President Hosni Mubarak is now being held, media reports said.
The state news agency said in a statement that "information came to the security apparatus locating his place of hiding."
Photos circulated on social media showed Badie, dressed in a traditional white robe, sitting between two policemen wearing bulletproof vests in what looked like a police van, Ahram Online said.
Egyptian satellite channel ONTV later broadcast live footage showing Badie sitting on a couch in an unidentified location after being captured. A policeman holding a rifle was seen standing next to him.
The arrest comes days after his 38-year-old son, Ammar, was shot dead during protests in Ramses Square.
A state of emergency is in force amid a crackdown on Islamists opposed to the army's ousting of Morsi, almost 900 people have been killed.
Violence has continued unabated in the deeply polarised nation with at least 25 policemen killed on Monday when militants ambushed them in the border city of Rafah, in the deadliest attack in years described by the government as a plot to "destabilise Egypt and terrify citizens".
The brazen attack came hours after the army-back interim government said 36 Muslim Brotherhood members died during a botched prison breakout near Cairo, but the Islamist party offered a different version, saying its was a "cold-blooded" murder by the security forces.
Hundreds of members of the Brotherhood have been detained, including Badie's powerful deputy Khairat al-Shatir, in a crackdown on protesters demanding Morsi's reinstatement.
Badie had initially been a prominent figure at the Brotherhood's protest camps in Cairo, but went into hiding on July 10, as the military-backed interim government tried to shut down the camps.
Leading Brotherhood figure Ahmed Aref said that Badie was "just one individual...among the millions who oppose the coup", and that his arrest would change nothing.
Meanwhile, Morsi was accused of complicity in the deaths and torture of protesters outside his presidential palace in late 2012, according to judicial sources.
He was earlier accused of crimes related to his 2011 escape from prison, and the new allegations mean that his current detention will be extended by 15 days.
A lawyer for another former Egyptian president, Hosni Mubarak, has said he hopes his client could be released from prison within the next two days.
Lawyer Fareed al-Dib told BBC that Mubarak had been cleared of one corruption charge and they were waiting for the court to check whether he still had to be held in custody on other counts.
Mubarak is facing a retrial for corruption and complicity in the deaths of protesters during the 2011 uprising which ended in his removal from power after 30 years.