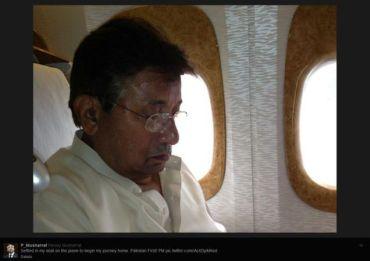 Ending four years of self-imposed exile, Pakistan's former military ruler Pervez Musharraf returned home on Sunday to take part in the May 11 general elections despite a Taliban death threat.
Musharraf, 69, landed Jinnah International airport in Karachi by a chartered Emirates flight from Dubai.
Police officials said he will be directly taken out of the airport to his ultimate destination from the airport's old building due to security reasons.
In a message posted on Twitter shortly before he boarded a flight from Dubai, Musharraf wrote: "I will arrive in Karachi today, March 24th, at 1pm & address a public rally at the airport at 5 pm in the evening."
Earlier, the former president tweeted a photo of him leaving his Dubai home, clad in a white shalwar-kameez.
He later tweeted another photo of himself "settled in my seat on the plane to begin my journey home".
Hours before his return, authorities in Karachi cancelled permission for a meeting that was to be addressed by Musharraf at a ground near the mausoleum of Mohammad Ali Jinnah, the founder of Pakistan.
Sindh police spokesman SSP Imran Shaukat said the no-objection certificate for the public meeting to be addressed by Musharraf had been withdrawn due to "serious security threats" to the former president.
The police had officially informed Musharraf's party, the All Pakistan Muslim League, about the decision, Shaukat said.
"The APML has agreed to cancel the public meeting," he said.
The banned Tehrik-e-Taliban Pakistan said it had formed a squad of suicide bombers to target Musharraf on his return.
In another message posted on Twitter, Musharraf said Pakistan "must crush terrorism and extremism".
Musharraf left Pakistan in early 2009 after a string of civil and criminal cases were filed against him in courts across the country.
Several of the cases related to steps he had taken during the emergency he imposed in late 2007.
Two courts have issued arrest warrants for Musharraf in connection with the killing of former premier Benazir Bhutto and Baloch nationalist leader Akbar Bugti.
Musharraf obtained pre-arrest bail from the Sindh high court ahead of his return.
Image: Screenshot of Musharraf's Twitter pic