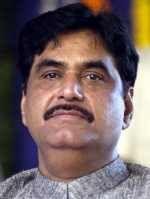 Bharatiya Janata Party leader Gopinath Munde ended his hunger strike on Tuesday afternoon in Aurangabad after Maharashtra Forest Minister Patangrao Kadam's assurance that his demands would be discussed and fulfilled.
Munde began his fast before the divisional commissioner's office on Monday afternoon, demanding that the government declare Marathwada as a drought-hit region.
Maharashtra Chief Minister Prithviraj Chauhan had a telephonic conversation with him, urging him to end his stir, after his blood pressure and sugar level dropped Monday night.
Meanwhile, on Tuesday afternoon, BJP activists resorted to a road blockade agitation at two places in the city.
Image: Gopinath Munde