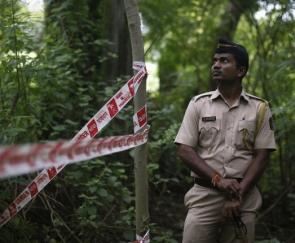 The Press Council of India has appointed a one-man inquiry committee to look into the facts of the gang rape of a 23-year-old photojournalist in Mumbai.
In a statement released in New Delhi, PCI chairperson Justice Markandey Katju said PCI member Rajeev Sabade will inquire into the facts of the case, the version of the Maharashtra government, journalists and then submit a report at an early date.
The journalist was gang raped by five men in the Mahalaxmi area in central Mumbai on Thursday night.
The incident took place around 8 pm near Shakti Mills near Mahalaxmi when the victim, working with an English magazine, was on an assignment, police said. The culprits allegedly tied up the victim's friend and raped her.

Image: A policeman stands guard near the crime scene where a photojournalist was raped by five men at an abandoned mill in Mumbai

Photograph: Danish Siddiqui/Reuters