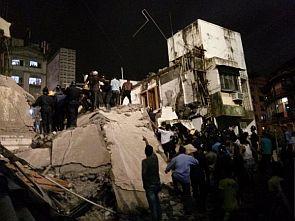 The death toll in the building collapse at Central Mumbai in the metropolis has risen to seven as more bodies were recovered from the debris on Tuesday, civic officials said
Six people were also injured in the collapse, BMC sources said.
Debris removal operations are still on at the collapse site of the four-storey building, located on Cadell Road, they said
A portion of the 'Altaf' building located near the Mahim dargah had collapsed on Monday night
Locals have blamed it on structural changes made to a car showroom on the ground floor. As the rescue operations began, another portion of building gave away.
The injured were admitted in BhabhaHospital at suburban Bandra, KEM and SionHospital.

The deceased have been identified as -- Zaibunissa Abdul Sattar Laakha (76), Mhaisani Baatliwala (75), Halima Sheikh (50), Mobin Lakha (18), Faraz Rizwan Merchant (13), Asifa Rizwan Merchant (50) and Sahira Ghulam Merchant (78).