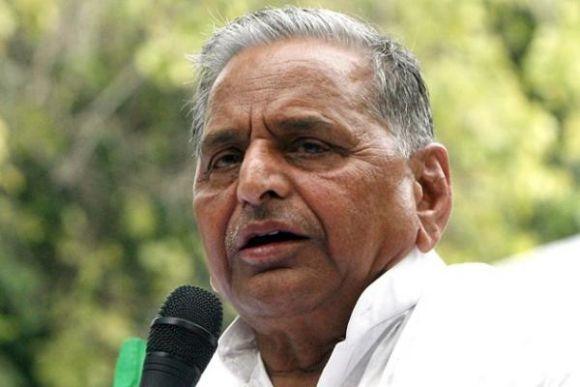 Apparent realisation that the reputation of his son Chief Minister Akhilesh Yadav's 21- month old government had declined drastically largely on account of its failure to control lawlessness in Uttar Pradesh, Samajwadi Party supremo Mulayam Singh Yadav has suddenly turned his attention to the lumpen element within the party.
Addressing a party workers' rally to mark the birth anniversary of late Prime Minister the Charan Singh at the state SP headquarters in Lucknow, Mulayam not only chastised his partymen to behave, but even went to the extent of showering indirect praise on his arch rival Bharatiya Janata Party, for being more disciplined than the SP.
Taking cognisance of media reports about the involvement of a SP minister's son in a brawl, Mulayam sought to make it loud and clear that he was not ready to tolerate such insolent acts by partymen under any circumstances.
"Aj maine akhbar mein padha ki ek minister ke ladke ne gundayee kari… maine faisla kiya hai ki ab jis din akhbar mein parhoonga ki apni party ke kisi bhi neta ya karyakarta nei gundayi kee hai , usae usi din party se nikal doonga. Aur jo gundayi aj huee hai to usse humne saaf kah diya hai ki ..isteefa do aur ladkon ko theek karo" (I read in the newspapers today that the son of a minister had indulged in violence . I have taken a decision today that henceforth whenever I see any such report about involvement of any party leader or worker in an act of violence, I will expel him from the party on the same day. As for today's report, I have already told the minister to resign and mend his son's ways.), Mulayam told the gathering .
As if that was not enough, Mulayam went further. He said, "BJP kyon jeeti dubara layi pradeshon mein? Uske karyakartaon ne gundayi naheen kee…isliye jeet gayee dubara…un subon mein dubara jeeti kyonki unhone gundayi naheen kee…aur apki party mein gundayi ho rahi hai…aur ap log dekh rahe hain." (Why did BJP win for the second time in so many states? Simply because its partymen were not indulging in unlawful acts. Your partymen are indulging in goondaism and you remain mute spectators or turn a blind eye")
Significantly, SP workers had made a blatant display of their insolent acts even on day one , soon afater Akhilesh Yadav was sworn in as the UP chief minister on March 15, 2012. And no punitive action was taken against any of the culprits. Apparently , partymen had now gone completely out of hand, compelling Mulayam to rise from his slumber.