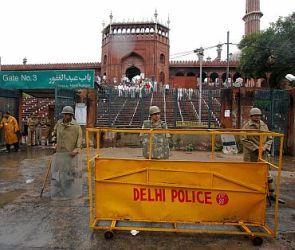 Members in both Houses of Parliament on Wednesday demanded stringent action against Delhi Police and CRPF personnel for assaulting and detaining two Left MPs and several students protesting growing attacks on Northeastern people in Delhi last week.
They also demanded that the issue be taken up by the Privileges Committee of Rajya Sabha and Lok Sabha and action initiated against these personnel.
In the Lok Sabha the issue was raised by M B Rajesh (CPM), who said he and Rajya Sabha CPI MP M P Achuthan were beaten up, threatened and detained by the police personnel on February 14 when they went to stop them from "brutally" cane charging university students, including those from Northeast, who were demonstrating on the issue.
"We showed our identity cards to them but they caught us by the collar, dragged us on the roads and threw us in the police vans. I was hit by lathis, abused and threatened. Girl students were not only beaten up by policemen but sexually harassed," he said.
The CPM member said, "What we did was in the true spirit of this House which had unanimously condemned the harassment and attacks against the people of Northeast."
As members, cutting across party lines, came out in support of Rajesh who said it was "blatant violation of MPs' privilege and an insult" to them, Speaker Meira Kumar said, "I condemn this incident unequivocally."
She said this was "a matter of safety and dignity not only of MPs but of all the people, including those from Northeast and particularly women. I will take cognisance of it" and asked Rajesh to send her a written complaint.
In his response, Parliamentary Affairs Minister Kamal Nath said the incident was "deplorable and condemnable. Strictest possible action will be taken against the police personnel involved. I will request the Home Minister to take strictest possible action against them."