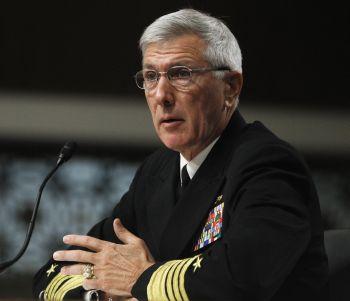 The United States is moving forward to develop a long-term strategic military partnership with India, a top American military commander said, noting that in the long run, India's role in security in a peaceful Indian Ocean is critical.
"I think, in the long run, India's role in security in a peaceful Indian Ocean is critical. We welcome that role," Commander of US Pacific Command Admiral Samuel Locklear told reporters at a Pentagon news conference on Thursday.
"To the degree that India chooses to take on that role and to participate with us and with other partners in global security, with a central force on the Indian Ocean, this is a good thing," he said.
Responding to reporter's questions, Locklear said the two countries are working together to strengthen their bilateral military to military ties and remove the difficulties in this regard.
"If you go back to the defence guidance or the strategy that was signed by President Obama, one of the things that I'm directed to do, as the US government is, on the military side is to develop a long-term strategic relationship with India. And we're moving in that direction," Locklear said.
"One the cornerstones of that long-term key relationship is to learn how we go forward or to figure out how we go forward in many of our procurement areas. Where we share a similar interest and we share similar capabilities, how do we partner together in those?" he noted.
The systems of the two countries are different, he acknowledged. "The Indian government and military recognise that their procurement system is different than our procurement system and that we're working through how to streamline those differences or to make those differences not so apparent so that we can move forward with some of the key technologies and key capabilities that we want to develop," Locklear said.
Early this week, Locklear had expressed satisfaction over the progress on the military to military relationship between the two countries.
"We are making good progress with the Indians, particular the Indian navy to US Navy relationship. We want to see that continue," he had said in his address to the Surface Navy Association National Symposium.
"So, part of the rebalance to the Asia-Pacific one of the things I was directed to do by the President was to improve that relationship with India," he said.
"So, we built a long-term, deeper strategic relationship with them that allows them to have a significant role in the security environment -- in particular, the maritime security environment in the Indian Ocean, which is one of those areas where we haven't paid a lot of attention to in the last number of decades," Locklear said.
Image: Commander of US Pacific Command Admiral Samuel Locklear
Photograph: Gary Cameron/Reuters