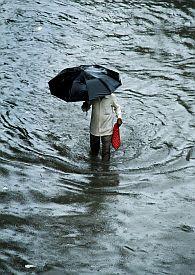 Five more bodies were recovered on Monday from near the Himalayan shrine of Kedarnath, taking the toll in the torrential rains lashing Uttarakhand to 13 even as the chardham yatra remained suspended for the second day due to landslips.
Authorities in Chamoli district said the toll may climb as about 50 persons from different villages in the area are missing and rescue operations are on.
They said five bodies were recovered from Basukital adjoining Kedarnath.
The Yamunotri, Gangotri, Kedarnath and Badrinath motor way and pedestrian routes are blocked at about a dozen places by rocks and boulders that have come down as part of the debris from collapsed houses and landslides triggered by rains continuing for the last 36 hours.
The rains have triggered flashfloods in the Ganga, Yamuna and their tributaries at most of the places sweeping away a number of bridges, roads and buildings.
The swirling waters of Assiganga, a tributary of the Ganga, have swept away several buildings including a four storeyed house which had been vacated in advance and a temple.

Eight persons were killed on Sunday in three separate incidents of house collapse in Dehradun and landslips in Rudraprayag districts.
Heavy rains caused a house at New Mithi Beri in Prem Nagar area of the city to cave in yesterday and five persons were killed and six injured after being hit by landslips in Rudrapayag district.

Four of them were killed near Bhim Gali at Rambara on Kedarnath pedestrian route while one was hit by a landslide near Gaurikund which is on way to Kedarnath, she said.
Five stationary buses, a truck and one JCB have been swept away in the flash floods in Uttarkashi district.