To reduce their reliance of foreign transactions, terror outfits are now using charity organisations and NGOs. The money is collected legitimately but distributed illicitly, reports Vicky Nanjappa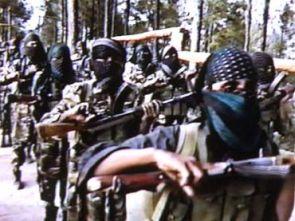 Out of the 100 million dollars (Rs 611 crore) sanctioned for terror activities in India, the Students Islamic Movement of India and the Indian Mujahideen have managed to lay their hands on 20 million dollars (Rs 122 cr), say sources in the Intelligence Bureau.
The Madhya Pradesh and Delhi police along with the Intelligence Bureau are set to launch a joint investigation to probe where this fund has been parked.
With several surveys predicting a Bharatiya Janata Party led government at the Centre, the intelligence agencies will also look into information that suggests the revival of the SIMI.
Incidentally, the 20 million dollars was collected through a legitimate method -- it was transferred to a charity organisation in Jammu and Kashmir. The National Investigation Agency has found that the money was pumped in through charity outfits like the Jammu and Kashmir Affectees Relief Trust. The 100 million dollars was pumped into various charity outfits since the past 6 years and out of it 20 million dollars went to SIMI and IM.
An IB official said the money has been kept as a backup and reduce the outfits dependency on other countries for funds.
Homegrown terror groups are trying to become self-reliant, be it ammunition or funds. The IM has ensured that it did not need to smuggle any arms and ammunition it needed for its attacks from outside India. Instead, they tied up with illegal arms dealers for supply. A large part of ammonium nitrate today is smuggled from Kerala and sent across to different parts of the country. The Kerala police have issued a very high alert to keep a tab on the transport of ammonium nitrate.
The SIMI and the IM have realised that their foreign transactions are bring easily traced and with the Gulf becoming extremely strict, these terror outfits don't find it safe to carry out transactions from there.
There is now a greater reliance on charity organisations and NGOs. The money is collected legitimately but distributed illicitly.
The police and the Intelligence Bureau are likely to question Safdar Nagori, the man who floated the radical half of SIMI, which the other part of the organisation did not subscribe to. Nagori was arrested in 2008 but the agencies believe he was able to control a large part of the network from inside the jail.
Nagori, according to the agencies, has been in touch with some operatives and is helping them revive the SIMI.
Image used for representation purpose only