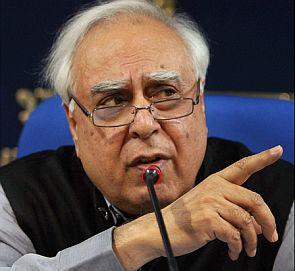 Stepping up its offensive against Bharatiya Janata Party's prime ministerial candidate Narendra Modi, the Congress on Monday alleged that the Gujarat chief minister's close aide Amit Shah is accused in the triple encounter killings of Sohrabuddin Shiekh, his wife Kauser Bi and Shiekh's associate Tulsi Ram Prajapati. Renu Mittal reports.
Sohrabudin and Kauser Bi were allegedly abducted by the Gujarat's Anti-Terrorist Squad from Hyderabad and killed in a fake encounter near Gandhinagar on November 26, 2005. Prajapati was also killed in another police encounter shooting.
Union Law Minister Kapil Sibal in a press conference at the Congress' headquarters said that there was strong evidence available with the Central Bureau of Investigation that Shah was involved in the killings, and added that the evidence suggests that Modi's office was directly involved in the 2002 murder conspiracy.
"I am just producing documents before you (mediapersons), I want to know why this investigation has not bee carried forward," Sibal asked.
"Modi is a potential accused. The circumstantial evidence is clear. We are wondering why the CBI has not arrested Parag
Shah and why Modi has not been interrogated. The nation needs to know. The CBI needs to answer. Courts in India should
ensure that a proper investigation takes place with the interrogation and arrest of Parag Shah and the summoning of
Modi for interrogation," he said.
He said that the CBI charge sheet indicates that circumstantial evidence is available, though the agency has not followed through the information nor has it moved to act against Shah or called in Modi for interrogation.
Sibal said that call records show that an officer on special duty (OSD) in the chief minister's office, Parag Shah, was in constant touch with suspended Indian Police Service officers D G Vanzara and Rajkumar Pandian. Shah was an OSD between 2003 and 2008.
Sibal has provided call detail records to show that a large number of calls were exchanged between Amit Shah, Vanzara and Pandian during the core period of the criminal conspiracy between November 2005 and December 2006.
It is said that Prajapati was required to be eliminated because he was the only eyewitness in Sohrabuddin and Kauser Bi's abduction and his testimony as an eyewitness would have directly implicated all the accused.
Parag was also personal assistant to L K Advani when he was Union Home minister from June 1998 to December 1998. Amit Shah and Pandian's call records suggest that the CM's office was in touch with Pandian through Parag while the 'conspiracy was being hatched'.
Shah was in constant touch with Pandian who 'planned and executed the murder of Prajapati', alleged Sibal.
The Congress says the CBI needs to answer and the courts should ensure a proper investigation takes place with the interrogation and arrest of Parag and the summoning of Modi for interrogation.
But what failed to answer is why the government and the party were quiet for the last 10 years they were in power and why no one moved to ensure there was action against Modi for the 2002 Gujarat riots, and later for the encounter killings which the party has now taken up.
with inputs from PTI