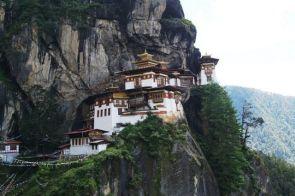 Three weeks after taking over, Prime Minister Narendra Modi will travel to Bhutan on Sunday on his first foreign visit to demonstrate the "special token of friendship" for the country.
The fact that Modi chose Bhutan as his foreign destination assumes significance since China has lately intensified efforts to win it over and establish full-fledged diplomatic ties with Thimpu.
He will meet Bhutan King Jigme Khesar Namgyel Wangchuck and Prime Minister Tshering Tobgay during his two-day visit during which the two sides will explore ways to give a boost to their ties, particularly in trade and hydro-electricity.
Modi, who will be accompanied by External Affairs Minister Sushma Swaraj, National Security Adviser Ajit Doval and Foreign Secretary Sujatha Singh, will also address the joint session of the National Assembly and National Council of Bhutan and meet the Leader of the Opposition.
"Bhutan is one of our most important strategic partners.. It is a very good country to show our policy of good neighbourliness in South Asia and special token of our friendship," the Foreign Secretary told a press conference here while briefing on the visit.
She was explaining why Bhutan was chosen as the first foreign destination of Modi.
"Our relations with Bhutan are unique and especially warm. Our historical and cultural linkages make us natural friends and partners," she said.
Asked about China's effort to reach out to Bhutan, the Foreign Secretary said "Bhutan is a sovereign country and it is for its leaders to decide on this issue keeping its interests in mind."
Talking about areas of cooperation India has with Bhutan, she said "we are privileged to be partnering" the country in its economic development.
"We will explore ways and means of strengthening our ties in important areas," she said.
India's assistance package includes Rs 4500 crore for Bhutan's 11th Five Year Plan from 2013-18 and covers areas from infrastructure and information and communication Technology to health, agriculture, human resource development and tourism.
India has invested in 16 projects in Bhutan, in areas such as hydropower, cement and IT. A free trade regime is in place between India and Bhutan. "Further measures to boost trade will also be discussed," Sujatha Singh said.
India also assists Bhutan in implementing smaller local projects such as schools, libraries, hostel facilities for students, veterinary hospitals, irrigation channels, drinking water schemes and community centres.
"Our hydropower cooperation with Bhutan is a classic example of win-win cooperation," she said adding "the hydropower projects generate export revenues for Bhutan, cement our economic partnership and provide clean and low-cost electricity to India."
Three Hydro-electric projects totalling 1416 MW (Chukha, Tala and Kurichu) are already operational. Three more HEPs [Punatsangchu I (1200 MW), Punatsangchu II (1020 MW) and Mangdechu (720 MW)] are under construction. They are scheduled to be commissioned in 2017-18.
In April 2014, the two countries signed a framework agreement on four more JV-model HEPs totalling 2120 MW. Of these, the pre-construction activities of the 600 MW Kholongchu HEP as a JV-model HEP between Satluj Jal Vidyut Nigam and Druk Green Power Corporation will commence soon.
Bilateral trade amounted to Rs. 6830 crore in 2012 and education, media and tourism sectors hold good potential for enhanced cooperation in future, the Foreign Secretary said.
To a question on delays in implementation of certain projects, she said issues have been "sorted out" and they are on track.
Asked whether the massive financial burden on India was delaying execution of projects in Bhutan and whether there could be requirement of taking loans from IMF, Sujatha Singh agreed these projects have huge financial implications but said "we have managed" it, including through joint ventures.
Modi is undertaking the visit at the invitation of the Bhutanese King and the prime minister.
The Bhutanese prime minister had attended the swearing-in ceremony of Modi government here on May 26.