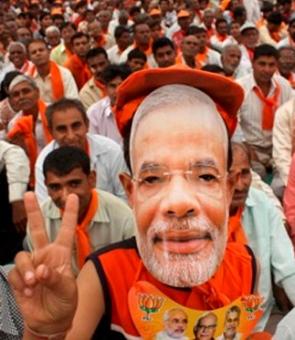 Bharatiya Janata Party's prime ministerial candidate Narendra Modi will start the party's general election campaign in Uttar Pradesh in October from the Congress bastions of Kanpur, Jhansi and Bahraich.
This would be Modi's maiden visit to the state after his elevation as chairman of the BJP's central Election Campaign Ccommittee and his anointment as the party's prime ministerial candidate.
The Gujarat chief minister and party's national president Rajnath Singh are scheduled to address a rally in Kanpur on October 15, followed by another one at Jhansi on October 25 and in Bahraich on November 8, BJP's state chief spokesman Vijay Bahadur Pathak said.
All the three areas are considered to be Congress bastions.
While Union Coal Minister Sriprakash Jaiswal is the Member of Parliament from Kanpur, Minister of State for Rural Development Pradeep Jain 'Aditya' is the MP from Jhansi.
Bahraich parliamentary constituency is also represented by Congress MP Commando Kamal Kishore.
Incidentally, Modi did not campaign in Uttar Pradesh during the state assembly elections last year.
Uttar Pradesh, with its 80 seats, contributes nearly 15 per cent of the Lok Sabha's 545 MPs and plays an important role in deciding which party comes to power at the Centre.
In the 2009 general elections, the BJP finished last behind the Samajwadi Party, the Bahujan Samaj Party and the Congress.