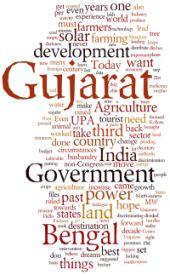 Gujarat chief Minister Narendra Modi on Tuesday shared his vision with top business leaders of the country in Kolkata.
In his speech, Modi shared examples of Gujarat growth model which depends on 3 major sectors -- Agriculture, Industry and Service sectors. He exuded confidence that he will learn a lot from West Bengal and hoped to implement what he learnt in Gujarat. He also trained his guns at the Manmohan Singh government, asserting that Centre discriminated between the Congress and non-Congress ruled states.
Click HERE to read what Modi said
What were the words that Modi used the most in his speech?
The word cloud alongside gives the full break-up of the Gujarat chief minister's speech, the size of the word signifying the frequency with which it was used.
'Gujarat', 'India', 'Bengal' and 'government' were among the most used words in his speech.
CLICK ON THE IMAGE FOR A LARGER VIEW