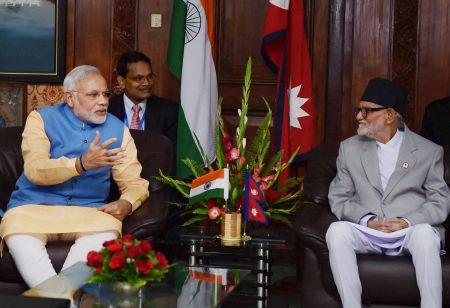 Prime Minister Narendra Modi on Sunday met his Nepalese counterpart Sushil Koirala during which the two sides signed three agreements, including a NRs 69 million grant to Nepal to supply iodated salt to curb iodine deficiency diseases.
Modi, who arrived on Sunday morning on his maiden official visit to Nepal, met Koirala at Singha Durbar Secretariat.
The two leaders discussed various issues including Nepal's peace process and constitution-drafting process as well as economic issues. They also discussed various facets of mutual relations and issues of common interest.
After the talks, Modi and Koirala witnessed the signing of three agreements.
Under the first agreement, India will provide a grant assistance worth NRs 69 million to supply iodated salt to curb goitre and other diseases related to iodine deficiency.
The second agreement was regarding the amendment of Articles 17 and 18 of the Pancheswor Multiple Project. The third agreement is about cooperation between Nepal Television and Doordarshan, the state-owned television stations of both the countries, it said.
From Singhadurbar, Modi went to the Constituent Assembly building in New Baneshwar to meet Speaker Subas Chandra Nembang. On his way to the Constituent Assembly, Modi stopped his convoy to meet common people.
Earlier, Modi, the first Indian Prime Minister to pay a bilateral visit to Nepal in 17 years, was given a rousing welcome with his counterpart receiving him at the Tribhuvan InternationalAirport, deviating from protocol for the purpose. Deputy Prime Ministers Bam Dev Gautam and Prakash Man Singh were also present at the airport.
Nepalese Foreign Minister Mahendra Pandey paid a courtesy call on Modi and briefly discussed some bilateral issues, including hydro-power, trade, energy and security.
Modi had said that he looks forward to working with the Nepalese leadership to forge a "new relationship" by identifying steps to strengthen bilateral cooperation in key sectors, including trade and investment, hydropower, agriculture and agro-processing, environment, tourism, education, culture and sports.
Image: Prime Minister Narendra Modi with his Nepalese counterpart Sushil Koirala during a meeting at PMO Chambers, Singha Durbar in Kathmandu, Nepal. Photograph: PTI photo