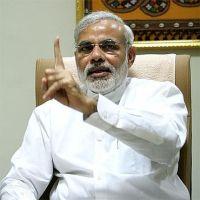 The Bharatiya Janata Party National Council on Saturday authorised newly-elected party president Rajnath Singh to constitute his parliamentary board, which may see Narendra Modi being formally brought to the party's central polity.
BJP General Secretary Ananth Kumar moved the resolution at the National Council meeting in New Delhi authorising Singh to constitute parliamentary board, the highest decision making body of the BJP, central election committee and disciplinary committee and it was passed unanimously by the members who raised their hands in support.
Rajnath Singh told the council members that he will consult senior leader L K Advani and others before constituting his team. The new president will also reconstitute the National Executive which has around 200 members.
Though passing of such a resolution is a routine exercise undertaken each time a new president takes charge, it assumes significance in the present scenario as Gujarat Chief Minister Narendra Modi and his Madhya Pradesh counterpart Shivraj Singh Chouhan are likely to be inducted into the parliamentary board.
The board comprises of 11 members. It is unclear if the party will decide to expand the body or remove two members to accommodate Modi and Chouhan in case a decision to induct them is taken.
Former Prime Minister Atal Bihari Vajpayee, who is a member of the board, has not attended any of its meetings since 2007 due to ill-health.
Party leaders said these two chief ministers are likely to be inducted as they are at the helm of big states having a sizeable population. Also, there is clamour among party leaders and workers to bring Modi to national politics to cash in on his growing popularity.
The BJP is hoping to come back to power at the Centre after losing two consecutive general elections in 2004 and 2009.
Modi may also be given a key role in the election campaign of the BJP.
Party sources said Rajnath Singh is likely to announce his team of central office-bearers, including general secretaries, vice-presidents and secretaries, later this month.
This would be followed by the appointment of the parliamentary board, central election committee, national executive and disciplinary committee.