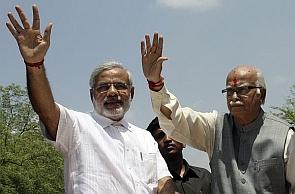 Gujarat Chief Minister Narendra Modi, who is being projected by a section within the Bharatiya Janata Party as its prime ministerial candidate for the next general elections, on Tuesday met senior party leader L K Advani and termed the meeting as "wonderful".
Modi, who is in the national capital to attend the BJP parliamentary board meeting ahead of the party's nationaleExecutive meeting in Goa on June 8 and 9, also met former BJP president Nitin Gadkari at his residence.
"In Delhi today. Had a wonderful meeting with Advaniji on arrival at Delhi. Now heading to meet Nitin Gadkariji," Modi said on Twitter after his 40-minute meeting with Advani.
The party's parliamentary board, the top decision making body of the BJP, which is headed by Advani, will meet to discuss the forthcoming BJP national executive and national council meeting at Goa.
Modi was recently inducted as a member of the parliamentary board by party president Rajnath Singh.