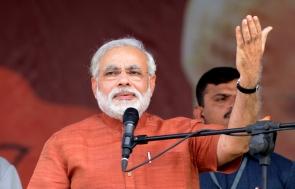 "Yes, We Can," chanted Narendra Modi, as he borrowed United States President Barack Obama's iconic 2008 poll campaign slogan to fire up his audience largely comprising youth at a public meeting in Hyderabad.
And true to Modi's style, the Gujarat chief minister modified Obama's chant to come out with his OWN version.
"Yes, We Can…Yes, Will Do," said Modi towards the end of his 45-minute speech, as the man who could possibly become India's prime minister struck an emotional chord with the youth exhorting them to raise the slogan reminiscent of the way Obama did in his presidential election campaign.
The chief of the Bharatiya Janata Party's national election campaign began his address in Telugu by hailing the role of Telugu people in the nation's progress, a gesture greeted with a thunderous applause.
"I pray to Lord Venkateswara to pull the Telugu people out of the current turmoil and ensure they live in peace and prosperity," said Modi.
The Gujarat CM struck an emotional chord not only with the youth but also with the elderly as he sounded the bugle for the party's campaign for the next Lok Sabha polls. He touched the feet of an 85-year-old woman, who represented her son staying in Canada, before he began his address at the packed Lal Bahadur Shastri Stadium in Hyderabad on Sunday evening.
The woman fondly blessed the "youth icon" even as Modi felicitated her amid lusty cheers by the boisterous crowd that comprised the youth in the 18-40 year age bracket.
Freedom fighter Indrasena Reddy, 86-year-old and battling a heart ailment, literally observed a three-day 'satyagraha' protesting his family's refusal to let him attend the Nava Bharata Yuva Bheri rally, and made it to the meet.
Reddy hugged and blessed Modi before the latter felicitated him.
"In our life, certain things that touch our heart will become the inspiration for life. Today, I am inspired by these octogenarians and I shall always remember this day," Modi said, striking the first emotion.
He informed the audience that the woman's son sent him a message on twitter saying his mother wanted to attend the rally though it was targeted for youth. "A Punjabi family, settled in Hyderabad…her son living in Canada sends me a request… Today, she is here and I got the opportunity to touch her feet and take her blessings. I am also touched that a veteran freedom fighter observed a satyagraha and fasted for three days to attend the meet. This shows their concern for the country," he remarked.

Image: Gujarat Chief Minister Narendra Modi addresses supporters in Hyderabad

Photograph: narendramod.in