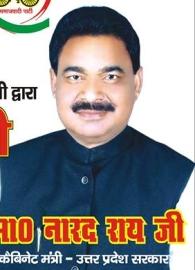 It seems ministers, bureaucrats and leaders from Uttar Pradesh need a crash course in sensitivity.
Or, at the very least, in keeping their mouths shut!
UP's Sports and Youth Welfare Minister Narad Rai on Saturday became the latest public figure to make a callous statement on the shocking deaths of several children at the relief camps for Muzzaffarnagar riot victims.
"Deaths happen everywhere. Children die in poor and rich families as well. This is normal and there is nothing to worry about," the minister said
His comments come in the wake of Uttar Pradesh Principal Secretary A K Gupta saying if people could die of cold, then nobody would have survived in Siberia.
So go ahead our dear leaders, BOO Narad Rai for his heartless comment!
Image Courtesy: https://www.facebook.com/pages/Narad-Rai/