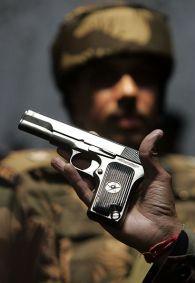 Militants early Sunday gunned down a special police officer in north Kashmir's Sopore town, 54 kms from capital Srinagar, in Baramulla district.
A senior police officer said militants fired pistol shots at Mudasir Ahmad, an SPO in state police, from close range near his home in the Chankhan locality of the town.
He said, "Mudasir succumbed to critical bullet wounds he suffered in the attack and succumbed enroute to hospital."
The area was immediately surrounded by police for searches.
No militant group has yet claimed responsibility for the killing of the SPO.
A sarpanch was shot at and wounded by militants in Sopore town on Friday after he was coming out of the local mosque after offering prayers.