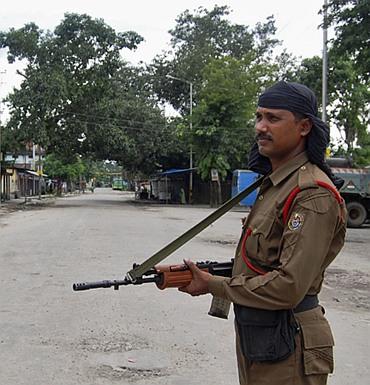 At least 23 persons, including children and women, were killed and 14 seriously injured by heavily armed NDFB(S) militants in two communally-sensitive districts of Kokrajhar and Baksa of Assam since last night.
Shoot-at-sight was ordered and indefinite curfew imposed on Friday night in Kokrajhar and Baksa districts, falling under Bodoland Territorial Administration Districts area, which bore the brunt of the violence, police sources said.
Indefinite curfew was enforced also in Chirang district, which comes under BTDA jurisdiction, and parts of Dhubri district as a precautionary measure, they added.
Curfew went into force from 6pm today to 4am on Saturday in Baksa district's Salbari subdivision and pockets of Mushalpur and Tamulpur subdivisions.
A group of 40 NDFB-Songbijit militants, armed with AK-47 rifles, swooped down on Balapara-I village in Kokrajhar district in the early hours today and fired indiscriminately entering three houses one after another killing seven persons on the spot, police said.
IGP L R Bishnoi told PTI that two children and four women of the minority community were among the seven persons gunned down.
The body of a three-year-old child also killed in the attack was recovered from the area later this morning, police said, adding, 13 persons there were also seriously injured.
Later tonight, 12 bullet-riddled bodies, including of five women and a child, were recovered from Nankekhadrabari and Nayanguri villages in Baksa district, police officials said.
At least 70 houses of the minority community were torched on the banks of Beki river near the Manas National Park in the district, IGP (Lawa and Order) S N Singh said.
Friday's attack followed the one by the militants last night when three members of a family, including two women, were shot dead and an infant seriously injured in neighbouring Baksa district last night.
The army's help has been sought to deal with the situation and troops were staging flag marches to instil confidence among the locals in the violence-affected places and to bring the situation under control, the Chief Minister's office (CMO) said in a statement.