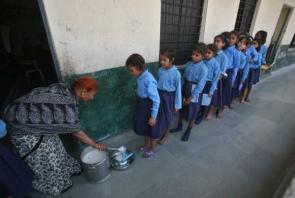 At least 35 students fell ill after consuming mid-day meal in a government primary school at Bhandi village in Balaghat, Madhya Pradesh official sources said on Saturday.
The incident took place on Friday when children complained of stomach ache and vomiting after eating 'poha' served in the midday meal at the school. The children were rushed to district hospital for treatment, they said. The condition of all of them was reported to be out of danger.
Students, aged between 5 and 10, said that tobacco-like smell was emanating from the food served to them after which senior officers, including the block education officer and Tehsildar, reached there to probe the matter, officials said. Food and water samples have been sent for testing and the exact reason could be ascertained only after receiving the report, they added. PTI CORR AS DK
Also, in Goa at least 19 students of a government-aided high school fell ill after eating the mid-day meal. While a girl was hospitalised at a primary health centre in Tuem, nearly 40 km from Panjim, rest of the students of the Kamleshwar High School were discharged after initial treatment, they said.
The girl suffered bouts of vomiting after consuming the meal while others felt uneasy, the officials said. Though the girl is reported to be out of danger she is under observation. "It is yet to be ascertained whether the incident happened due to food poisoning," an official said. The affected kids are students from Std V to Std VII, he said.
Initial reports said that a spider was found in the meal but the official dismissed them as a "rumour". The job of serving the mid-day meal was assigned to a non-government organisation, Brahmanandacharya Self Help Group. The concerned NGO has also been serving the meal to 13 primary schools and eight secondary schools, officials said. This is the second such incident which has hit the state during this week.
Earlier this week, around 22 students from St Joseph High School were referred to the hospital due to suspected food poisoning after eating the mid day meal.