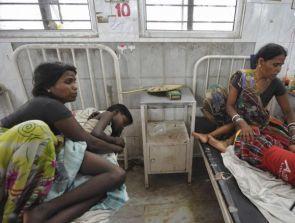 A court in Bihar's Saran district on Wednesday issued a non bailable warrant against Arjun Rai, husband of Meena Devi, the principal of the school where 23 children died after eating contaminated food in July. Rai's anticipatory bail has been dismissed, police said.
The court of the chief judicial magistrate after hearing a plea of the district police issued a non bailable warrant against Rai, who has been absconding since the food poisoning tragedy.

Rai has been accused of purchasing the pesticide that got mixed in the mid-day meal served to school children.

Earlier, the court has turned down the police plea to issue a non bailable warrant against Rai.

According to police officials, the court also dismissed Rai's anticipatory bail.

The court also rejected the bail petition of Meena Devi on Wednesday.

Meena Devi, principal of the government primary school at Gandaman village in Saran district, was arrested a week after the mid-day meal tragedy and sent to judicial custody. She has been named as an accused in the case.
She underwent a lie detector test last month. The Special Investigation Team, which is probing the case, conducted a polygraph test.

A First Information Report was registered against her on charges of murder and criminal conspiracy, the police said.

Meena Devi, who was suspended from service for gross negligence, had been on the run since the day of the incident.