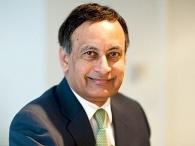 Pakistan's Supreme Court on Tuesday directed authorities to ensure former ambassador to the United States Husain Haqqani's presence in court over a case related to an alleged memo sent to the US military in 2011 to help stave off a feared coup.
The order was issued by a nine-judge larger bench headed by Chief Justice Iftikhar Chaudhry, which is hearing several petitions on the Memogate issue, including one filed by prime minister-designate Nawaz Sharif.
The apex court directed the government to ensure that Haqqani is brought back to Pakistan in four weeks.
If Haqqani does not appear in court, the government can proceed with the trial, said Justice Asif Khosa.
Haqqani has been accused of delivering to the US military a secret memorandum that allegedly sought help to prevent a coup in Pakistan in the wake of the raid by United States Special Forces that killed Osama bin Laden in May 2011.
The memo allegedly committed Pakistan to wide-ranging changes in its national security set-up, including the removal of military officials believed to have links to militants.
Haqqani has denied the allegations and is currently in the US. He has said he will not come to Pakistan for the hearing of the case because of serious threats to his life.
His lawyer Asma Jahangir told the bench during the proceedings that her client continued to have security concerns.
Jahangir further said Haqqani is afraid as Sharif, who is one of the petitioners, is set to become the premier.
The chief justice remarked that it makes no difference who becomes the prime minister as the issue will be decided according to the law.
No one will be allowed to exploit any one, he said.
The chief justice directed the government to adopt all constitutional and legal procedures to facilitate Haqqani's appearance in court. He further said Haqqani is not an accused and the Constitution protects the fundamental rights of all citizens.
The apex court subsequently adjourned the case for four weeks.