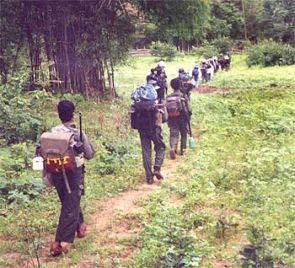 An encounter was underway on Thursday between security forces and Garo militants responsible for the gruesome killing of a tribal woman after molestation and attempted rape, in South Garo Hills district in Meghalaya.
The encounter followed an operation launched in the Durama hills range across the Simsang river where 40 to 50 militants of the Garo National Liberation Army were holed up in a camp, Inspector General of Police G H P Raju said.
Commandos of Swift Weapons and Tactics and Central Reserve Police Force's Cobra Force were engaged in the encounter, Raju said.
The Centre on Thursday rushed five companies each of Border Security Force and CRPF to Meghalaya to assist the state government in maintaining law and order. The security forces were sent at the request of Meghalaya Chief Minister Mukul Sangma.
The Garo militants shot dead a 35-year-old tribal woman, a mother of four, with an assault rifle splitting her head in two claiming her to be a police informer after she resisted their attempts of molestation and rape in Raja Rongat village on June 3. The GNLA in a statement had denied that the woman was molested or raped and said that she was 'executed' as she was a 'police informer'.
Home Minister Rajnath Singh and MoS (Home) Khiren Rijiju on Thursday sought a detailed report of the horrific killing. "We urge the Centre to extend their full support in terms of manpower and other resources in view of the challenges posed by the mushrooming of militant outfits," Joint Home secretary V R Syiem said in the report sent to the Centre.
State Home minister Roshan Warjri met family members of the victim during the day. The government had on Wednesday announced ex-gratia payment of Rs 1 lakh to the woman's family.