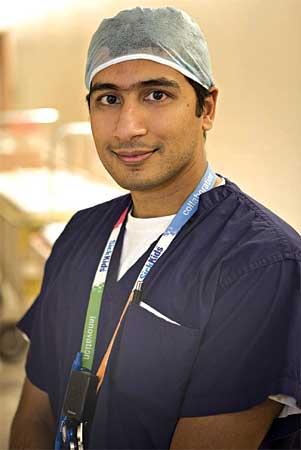 Dr Ashwin Mallipatna is one of the five Indian doctors who are in Toronto working at SikckKids hospital under Healthy Kids International for which even the Indian government has allocated Rs 5 million, or $125,000.
The HKI is an initiative of the Sick Kids Foundation, which is addressing the shortage of pediatric specialists working in select developing countries where financial issue has traditionally created gaps in care. In an interview with Rediff India Abroad's Ajit Jain, Mallipatna recounts his experience in Canada.
What brought you to Canada?
I came on my own initially. I was practising in Bangalore for a few years before that. My medical school and residency training were from St John Medical College in Bangalore. I go back to Bangalore and join an eye hospital called Narayana Nethralya. It is one of the bigger eye hospitals in Bangalore, where we have dedicated specialist eye services.
There is a much larger case load in India. For example, Canada consistently sees close to 24 new patients with pediatric eye cancer every year. In India, we see about 1,500 every year. That's quite a large number. Each of these patients might take about a year or two to get cured, and then [need to be] checked for follow-up for years afterwards. This brings the total load to many times more than the number we see at Sick Kids Hospital in Toronto. 
The number is only an estimate for India, based on the population growth rate. Not every case is counted in India. It is very difficult to register every case, as it is done in Canada. We are sometimes not very well organized when it comes to data collection and follow-up. There are many social and cultural issues that prevent India from being as successful as Canada in managing pediatric eye cancer.
India still has so much illiteracy. Despite the IT revolution, there is a huge gap in what people in India have access to. In terms of technology India is not so far behind. But not everyone in India has access to that technology. Thanks to the health-care system here, everybody in Canada has access to that technology.
You are here for a two-year training. How has the experience been?
In India, before I came here, my expertise was not in pediatric eye diseases. A large part of my training in this field has been in Canada. My training at Sick Kids is very focused on academics and research. I couldn't have gotten an equivalent training in terms of pediatric eye cancer in India. The people who are running the department here have a minimum of 15 years experience specialized in pediatric eye cancers. One of the senior staff members here, Brenda Gallie, has been practicing since the late 1970s and she is considered one of the world authorities in pediatric eye cancers. Training with them has been an incredible experience.
The incredible thing about SickKids is the patient's access to cutting-edge technology and our access to research facilities. Although the technology is present in India, not every patient has free access to it. In this hospital, every patient has access to every piece of equipment, irrespective of what they can afford. Since the hospital is affiliated with the University of Toronto, and because it is a teaching hospital, the amount of basic research experience that you get here is very, very good. It is my intention to try and develop a center [in India] which has adequate exposure to academic and research as it is in the Hospital for Sick Children. 
Tell us about eye cancer among children. 
We detect children with eye cancer very late as a result of which they come with a significant number of eye problems  -- which Canada doesn't see.
Why is that?
It is due to lack of awareness and lack of access. There are two reasons for lack of awareness also: One is the parents' lack awareness and the other is the doctors' lack of awareness. In India, parents quite often do not accept that an eye condition can take a child's life. The story in such a situation is that the child was taken from doctor to doctor without proper care. Sometimes the parent did not follow up properly on the doctors' advice, or they just do not have enough money to get the lifesaving treatment the child needs. Often, even educated parents take the child away to be managed improperly by alternative medicine practitioners.
We have had many patients in India where the child's eye cancer has not been detected until it's too late, despite parents persistently complaining to the doctor. Some doctors have refused to believe the complaints from the parents. It is very embarrassing when patient's first point of care -- such as the general physician in the village or maybe the pediatrician in the city -- lacks awareness with respect to eye cancer. In North America it might be called negligence, but in India it is very often ignorance. In Canada, the error might cost the doctor his license to practice medicine. Of course, there are a few centers in India that provide excellent care for these children. It is not true that all doctors in India are ignorant, and not all doctors in Canada are perfect either. Very often, the doctor might just be very busy that they are too overwhelmed to have time to pick up the right findings. The number of patients that doctors see per day in India is a lot more than what the doctors see here.    
What is the difference in the number of eye cancer cases between Canada and India?
We don't have exact numbers, but off the top of my head I would say that I saw them about three times more often in India than I would in Canada.  In terms of delay, almost every patient I used to see in India is diagnosed later than in Canada, for one reason or the other. In India, there is a 70 to 80 percent survival in some situations, especially in the big cities, but in Canada we have 99 percent survival rate now. Of course, there are countries that are far worse. In Africa, 70 to 80 percent of the children die from eye cancer. But for a country that has seen such incredible progress, India can have a much better survival rate.
Retinoblastoma is a very treatable cancer if it is detected early. We were losing quite a significant number of children because they come in at a very advanced stage. The incidence of this cancer in the general population all around the world is about one in 10,000 to 15,000 live births.
In Canada the most common presentation is a white reflex in the eye, sometimes called a cat's eye reflex. Every patient with white reflex in the eye should be investigated in detail for cancer and about one in a few hundred children might end up having the cancer. The white reflex is usually considered an early stage. Most of cancers that come are detected secondary to a white reflex here.
In India, we quite often see that the cancer would have spread outside the eye which gets diagnosed as a painful red eye with the eye ball swollen and the child quite distressed. If you see that the tumor has spread outside the eye, the chances for the survival of the child are quite low.
How would Healthy Kids International help you once you are back in India? 
They have offered support for programs, our collaborative researches and our education development plans in India. They have offered to support us for the next four years. With this support we can have a plan for improving the situation in India, and start working on that vision right from the moment we step back into India. Otherwise, many of us would have to wait to find funding before we actually work towards our vision.
The government of India has provided $125,000 for this physicians exchange programme
I think it is a very significant support as it has been given by our nation. India has now started developing its knowledge-base through supporting our doctors' education outside India. I would want to see every doctor of Indian origin in North America take responsibility for some aspect of health care in or around their hometowns in India. It could be supporting medical education, or regular health camps, or health insurance schemes for the poor, or anything they see as the need. India is very receptive to such assistance. We will be able to see the access to medical care in India improve in leaps and bounds.