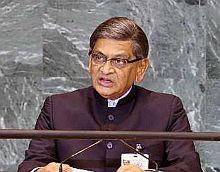 Union External Affairs Minister S M Krishna on Friday accused the media of hyping up the incidents of attacks on Indian in Australia.
"Media is trying to hype up this issue," Krishna told mediapersons in Bengaluru. "I am in constant touch with Australia," he added.
He said sometimes there were attacks (against Indians in Australia) the reasons for which 'we are not clear.'
"Unless there is clarity as to why the attacks, motives behind the attacks...I do not think it will be proper for government of India to rush to any comment or any response," Krishna said.
He said Australia's Foreign Minister Stephen Smith got in touch with the External Affairs Ministry and (Smith) is going to be in London when he (Krishna) is also going to be there.
"He (Smith) has sought a meeting with me (in London) and I have agreed to meet Stephen Smith. Certainly, we will take (up) these issues (attacks on Indians in Australia) if they need to be looked at in greater depth," he said.
Two Indians were attacked in separate incidents overnight in Brisbane in the latest of a series of incidents. A 25-year-old youth was assaulted and robbed while using a phone box near his home in Macgregor in Brisbane's south.
In another incident, a taxi driver was attacked early on Friday morning after an argument broke out with two men in Carindale, in Brisbane's southeast.
Image: Union External Affairs Minister S M Krishna