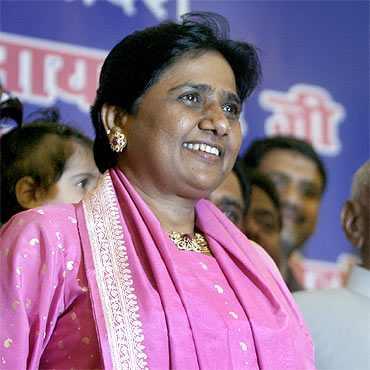 Bahujan Samaj Party supremo Mayawati on Sunday voiced her prime ministerial ambitions by asking party workers to ensure a "big victory" for it in the next Lok Sabha elections so that she can deliver the Independence Day speech from the Red Fort.
Trying to position herself for a national role, Mayawati also cautioned her party cadre against becoming a "saleable commodity"
"You must ensure a big victory for the BSP in the next general elections so that I can deliver Independence Day speech as the prime minister from the Red Fort," the former Uttar Pradesh chief minister said addressing a state-level rally of party workers in Nagpur. The prime minister traditionally delivers the Independence Day speech from the ramparts of Red Fort.
The BSP mainly has a presence in UP which accounts for 80 Lok Sabha seats, roughly 15 per cent of the total seats at stake.
Mayawati, currently a Rajya Sabha MP, said her party workers should remain alert against forces that might "try to corrupt them" during the Assembly and Lok Sabha elections.
"Don't become a saleable commodity," she warned.
She also demanded stringent punishment to those involved in the VVIP helicopter scam. She accused the Congress and the Bharatiya Janata Party of conspiring to stall the bill on quota in promotion for the Scheduled Castes/Scheduled Tribes in government jobs and promised that if her party comes to power at the Centre, it would ensure that it is implemented.
The Congress-led United Progressive Alliance government could also have filed a review petition in the Supreme Court, which had quashed the UP government's decision on reservation in promotions for SC/STs, but it did not, Mayawati alleged.
The Congress also had the option of asking a competent legal counsel to defend the case of continuing the reservation quota in promotions, but it did not do so, she said.
Both the Congress and the BJP conspired to deny the rights to lakhs of government employees, she alleged and asked the cadre to remain equidistant from both the parties.
The BSP had to take the fight to streets and finally to Parliament, she said, adding, "Though we have succeeded partially as the Rajya Sabha has passed the Amendment Bill, but it is still pending in the Lok Sabha."
Opposing the Foreign Direct Investment in retail, Mayawati said the UPA government should adopt developmental policies, which would benefit the general public. She also criticised the direct cash transfer in subsidy schemes saying it would not help the poor. She supported creation of Telangana state and favoured statehood to Vidarbha.