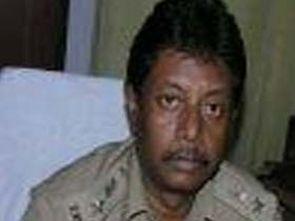 Security forces on Wednesday carried out massive combing operations in the forests of Dumka and Pakur in Jharkhand, a day after a top police officer and five policemen were gunned down by the ultras, but made no headway in tracking them down.
"The security men have launched an operation to take strong action against the extremists," said Anand Shankar, adviser to Jharkhand Governor Syed Ahmed.
"If necessary, assistance will be sought from the Centre," Shankar, who is in-charge of the state home department, told reporters.
The Maoist ambush on a police convoy -- near Kathikund in Dumka district bordering Pakur -- would be investigated, he added.
Terming the killing of Pakur Superintendent of Police Amarjit Balihar and other policemen as a cowardly act, the governor said a strong response would be given to the Maoists.
The sacrifice of the security men would not be frittered away and the killers would be caught and brought to justice, he said.
He said the ambush would not lessen the morale of policemen and they would fight with renewed vigour.
After laying a wreath on the body of the slain SP at the Jharkhand Armed Police premises at Doranda in Ranchi, Director General of Police Rajeev Kumar told reporters that a state-wide operation would be launched against the Maoists.
Pakur and Dumka were today officially declared as Maoist-hit districts, taking the number of such districts to 20, of the total 24 in the state.
Earlier, the governor and several senior government officials placed wreaths on the body of the slain police officer, as buglers sounded the last post.
The governor consoled the wife and two daughters of the police officer, an IPS officer of 2003 batch, who was a target of Maoists because of his tough stand against them since his posting at Pakur.
Chief Secretary R S Sharma and the governor's two advisers -- Madhukar Gupta and Anand Shankar -- were also present.
After the ceremony, Balihar's body was taken to his home at Purulia Road and a church before being laid to rest.
Balihar was the second SP to fall victim to the ultras.
On October 4, 2000, the ultras of the erstwhile Peoples War, which merged with the Communist Party of India - Maoist, had killed Lohardaga SP Ajay Kumar Singh in undivided Bihar. Lohardaga later became part of Jharkhand.
The Maoists had also killed several policemen, civilians and political leaders like CPI - ML-Liberation Member of Legislative Assembly Mahendra Prasad Singh, Janata Dal - United MLA Ramesh Singh Munda and Jharkhand Mukti Morcha Member of Parliament Sunil Mahato in the last 12 years.