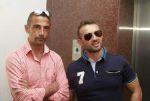 The ministry of external affairs has ratified an agreement with Italy that will allow convicted nationals of both countries to be transferred back to serve sentences in their own country, an officer in the ministry said.
The agreement was envisaged and signed a few months before the Italian marines shot dead two fishermen in the high seas off the Kerala coast, but was ratified much after their arrest in November-December 2012.

The Italian marines Massimiliano Latorre and Salvatore Girone who returned to India on Friday are likely to be the first beneficiaries of the agreement.

According to MEA spokesperson Syed Akbaruddin, India has such an agreement with 12 other countries including Sri Lanka.

Akbaruddin told rediff.com that India has brought back 20 Indian prisoners from Sri Lanka, who currently are serving their sentences in Tamil Nadu jails.

However, the new agreement has certain terms and conditions. For instance, if any national of the contracting country has received a death sentence he or she cannot take advantage of the agreement.