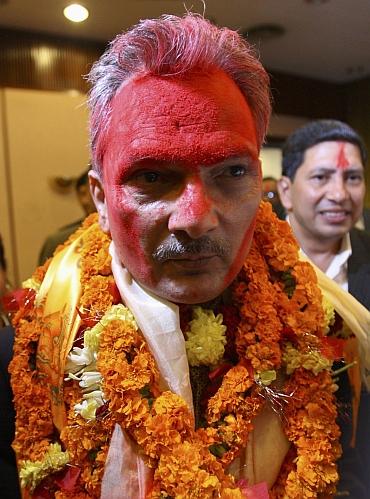 Maoist leader Dr Baburam Bhattarai was on Sunday elected Nepal's new prime minister defeating his Nepali Congress rival R C Poudyal, with the Terai-based Madhesi alliance extending crucial support to the former rebel leader.
Fifyt-seven-year-old Bhattarai, who has a PhD from New Delhi's Jawaharlal Nehru University, polled 340 votes, while Nepali Congress Parliamentary Party leader Poudyal could secure 235 votes.
The United Democratic Madhesi Front, the alliance of Madhesi parties that has emerged as the fourth largest political force in the Assembly, decided to support Bhattarai.
Most of the smaller fringe parties and the alliance of Madhesi parties supported Bhattarai, who was elected from the Constituency No. 2 of Gorkha with a landslide victory in 2008. Bhattarai was the deputy prime Minister and finance minister in the government led by Maoist Chairman Prachanda in 2008.
No party holds a majority in the Constituent Assembly, which acts as the country's interim parliament.
The UCPN-Maoist, which has 236 seats in the Constituent Assembly, is the largest party in the House. The second largest Nepali Congress, the main opposition, has 114 members followed by Communist Party of Nepal-UML, which has 107 members.
Caretaker Prime Minister Jhal Nath Khanal, who was elected after 17 rounds of polls in Parliament over a period of seven months on February 3, resigned on August 14 for failing to make "concrete" process in the peace process.
The CPN-UML, the third largest party, has decided to back Nepali Congress leader Poudyal.
The Parliament was directed by President Ram Baran Yadav to elect a new prime minister through majority vote after parties failed to nominate a consensus candidate to lead a national unity government.
The parliament, which was formed in 2008 after a popular election, has failed to fulfill its main function to push forward the peace process and draft a new constitution though its term was extended twice, the latest on May 29 which is set expire at the end of this month.
The Maoists have also floated a peace proposal to complete the integration of their former combatants with the security forces within 45 days.
The Nepali Congress has unveiled an 11-point concept paper which envisages giving a momentum to the stalled peace process, drafting a new constitution and addressing the outstanding issues linked to the integration of the former
Maoists combatants, including modality, norms and standards and rank harmonidation of the former People Liberation Army fighters.

Image:
Dr Baburam Bhattarai walks out from Parliament after being elected Nepal's 35th Prime Minister, in Kathmandu | Photograph: Navesh Chitrakar/Reuters