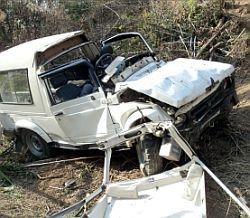 A Manipur rifles jawan was killed and eight others, including an executive engineer and four jawans, were injured when suspected insurgents ambushed an official team in Manipur's Chandel district bordering Myanmar on Sunday, official sources said.
The insurgents first set off a powerful bomb by using a remote-controlled device and then opened fire at the team led by executive engineer Milan Singh when they reached a place between Khudengthabi and Kwatha Lamkhai, about 110 km south east of Imphal at around 7.45 am, the sources said.
Eight others -- four civil officials including the executive engineer and four Manipur rifles jawans -- were injured by the splinters of the bomb, sources said, adding, the Manipur rifles jawans of 8th battalion were escorting the officials from border town of Moreh to Imphal.
The jawan who was killed was identified as Sushil Singh, they said adding that the injured were taken to a hospital for treatment.
Official reports from Chandel district said five Manipur rifles personnel were in a vehicle ahead of the second vehicle in which four civil officials including the executive engineer were travelling when the explosion occurred.
No individual or group has claimed responsibility for the crime, reports from the district said adding that different insurgent organisations were active in the area.

Security and police forces from border town of Moreh rushed to the spot and launched a massive combing operation but the attackers reportedly escaped through nearby thick jungles.