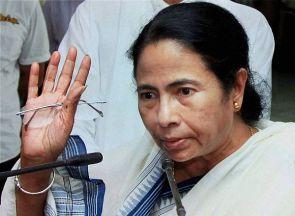 West Bengal Chief Minister Mamata Banerjee on Monday faced angry protests by villagers while visiting Kamduni at Barasat where a college student was raped and murdered last week.
"I was about to visit the family. What has happened is really sad and horrific. We promise stringent action against the culprits. We'll submit chargesheet within 7/8 days and theculprits will be punished within a month. We, on behalf of the government, will plea for death sentence," Banerjee said after visiting the victim's family members.
"Our's is the only government in India which punished culprits within 27 days in Balurghat in North Bengal. We are number one in taking action", she claimed.
As she was about to board her car, Banerjee faced angry protests by villagers who tried to ask some questions.
"Don't you feel ashamed to do politics on such incident? You are doing CPI(M) politics. Those who were arrested were connected with CPI(M)," Banerjee, who lost her cool, remarked.
In an obvious reference to the previous Left Front government, she said they should have planned more police stations.
Stating that she would not spell out the details of what came up in her meeting with the victim's family, the chief minister said, four new police stations would be opened in the area.
"We are the only government which have ensured death penalty within 27 days of an incident in Balurgahat. I have also asked the home secretary and the chief secretary to visit the area," she said.
The college student was raped and murdered in Kamuduni area of Barasat last week. The brutality of the incident has not only kicked off a series of protests throughout the state, but has also prompted the State Human Rights Commission to start a suo motu enquiry.
Earlier state food minister Jyotipriyo Mullick and Trinamool MP Nurul Islam faced public ire when they tried to compensate the victim's family members with money.