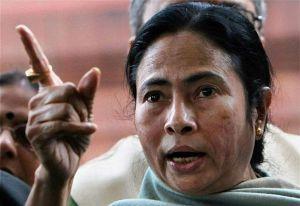 Claiming that Maoists were planning to kill her, West Bengal Chief Minister Mamata Banerjee Wednesday dared them to touch her, saying they can't scare her with guns.
"When I was planning to visit Junglemahal, I was told that Maoists were planning to kill me there," Banerjee told a panchayat election meeting in Gopiballabhpur.
"I challenge them to touch me if they have the guts. Tell me when they want to kill me, the place and time and I will be there. They can't scare me with guns. I have fought the guns of CPI-M in the last 34 years," she said.
Banerjee also accused the CPI-M of colluding with the Maoists to bring back violence in Junglemahal.
She, however, said that Maoists who wished to return to normal life were welcome and would be supported by her government.
"Many have already surrendered and are leading a normal life," she said.
Showcasing her government's success in bringing peace in the former Maoist-hit area, Banerjee said the days of fear have gone and vowed that they would not be allowed to return.
"Our government has been able to restore peace in Junglemahal. This was our challenge and commitment after we came to power," she told another meeting at Jamboni.
"We will never allow terror to return to Junglemahal," she said.
"I salute those who fought against them (Maoists) risking their lives. I also salute the jawans in Junglemahal guarding the people," she said.
She recalled that two years ago people in Jamboni and other areas in the district were fearful of stepping outside their home in fear of attacks by Maoists and CPI-M cadres.
"There was a lot of bloodshed and many people were killed," Banerjee said.
She criticised Maoists saying that they did not follow any ideology and killed people keeping their faces hidden.