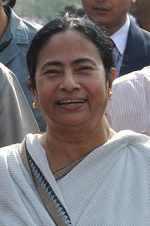 Senior Communist Party of India leader A B Bardhan on Thursday said the Left wanted to build a new Front but ruled out a place from the Trinamool Congress chief Mamata Banerjee, whom he called a "pesudo-Left".
Addressing a press conference in New Delhi Bardhan said Banerjee is "mouthing Left slogans" because the masses in Bengal are Left oriented.
He said she is right in raising such issues but claimed that she was forced to do so because of the peculiarities of the state where she is the chief minister.
"We want to build a new front. Such a front will come into existence," the Communist Party of India leader said.
Asked whether Banerjee has a place in a Front which the Left believes will come into existence, Bardhan replied, "I said Left oriented parties. I did not say pseudo-Left who mouths Left slogans but are not necessarily Left.
She came to power defeating the Left. If she is mouthing Left slogans, it is because the mass in Bengal are Left oriented."
He said the Left parties will "absolutely and thoroughly" join hands with democratic forces to fight the anti-people policies of the government.
"Now elections have started. Himachal Pradesh and Gujarat are going to elections. The Bharatiya Janata Party hopes to retain both the states. As far as Himachal is concerned, the BJP will lose and many other parties will emerge," he said.
On who will win in Gujarat, Bardhan evaded a direct reply and said the Left is a "weak force" in Gujarat while in Himachal they are "far better".
He said the leaders of the Communist Party of India-Marxist and the CPI will meet on Saturday to discuss the question of Left unity and later there will be a meeting with other parties like Forward Bloc, Revolutionary Socialist Party and CPI- Marxist-Leninist.

Image: West Bengal CM and Trinamool Congress chief Mamata Banerjee