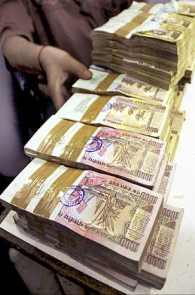 Assets worth Rs 14 crore have been amassed by public works department executive engineer Satish Madhukar Chikhalikar, who has been arrested along with a colleague for allegedly taking Rs 22,000 as bribe, the Anti-Corruption Bureau said.
Chikhalikar also has a house worth Rs 23.71 lakh in Nanded's Gujarati colony, Anti-Corruption Bureau chief Shashikant Mahavarkar said.
The probe also revealed that Chikhalikar allegedly kept properties like farmlands, plots and houses in the name of his brother-in-law Subhash Ganesh Kulkarni, a resident of Johrapur under Shevgaon taluka in Ahmednagar district and at Taroda in Nanded and Mukund Nagar in Aurangabad, the ACB said.
Chikhalikar and PWD branch engineer Jagdish Magan Wagh were arrested in Nashik on April 30 while accepting a bribe of Rs 22,000 from a road contractor in their office for clearing his pending bills. Both of them are in police custody till May 10.
The ACB officials searched the houses and bank lockers of both the engineers and found documents showing they had accumulated assets disproportionate to their known sources of income, sources in the ACB said.
Chikhalikar's postings included Parbhani, Jalna, Latur and Ahmednagar and it has been noticed that he has properties at all these places, besides Navi Mumbai, Pune, Aurangabad and Nanded and officials have been asked to investigate his assets, Mahavarkar said. A diary seized from Chikhalikar's house is also being checked, he said.
Total 78 files were recovered from Chikhalikar's house during raids and when checked, 27 of them were found to be property-related while others included those of income tax, some vehicle documents, insurance papers and others, the ACB chief said.
Meanwhile, Wagh's assets unearthed so far include Rs 47.13 lakh cash, 1,117 gram gold worth Rs 31.58 lakh, Rs 8 lakh in fixed deposits and document of plots totalling Rs 86.71 lakh. It has also been found that cars of both Chikhalikar and Wagh were registered in the name of a person hailing from North Maharashtra's Dhule town.