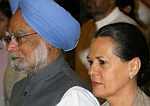 The United Progressive Alliance coordination committee is scheduled to meet in New Dekhi on Thursday, with the ongoing political crisis in Maharashtra to rule the roost.
The committee is likely to endorse government's recent reforms, two days after Congress fully backed Prime Minister Dr Manmohan Singh.
The meeting is expected to make an attempt to formulate a coordinated response of the ruling alliance to the challenging economic issues before the country.
The Sonia Gandhi-led committee was constituted last month to ensure cohesive functioning of UPA after Congress ally NCP had raised the issue of lack of coordination in the ruling alliance. It has met twice so far.
It will be the first meeting of the committee since the Trinamool Congress pulled out of the UPA protesting Centre's nod to Foreign Direct Investment in multi-brand retail, increase in diesel prices and the cap on the supply of subsidised cooking gas cylinders per family per year.
Another UPA constituent, the Dravida Munnetra Kazhagam had also expressed reservations over the economic decisions of the government.