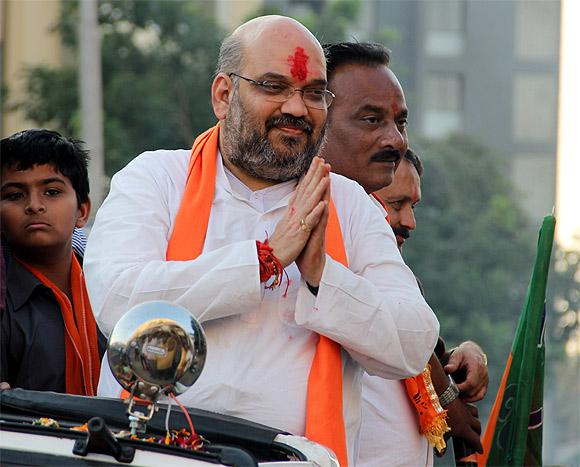 Narendra Modi's candidature from Varanasi will help the Bharatiya Janata Party gain more seats in eastern Uttar Pradesh as well as neighbouring Bihar and lay the foundation for a National Democratic Alliance government, his close aide Amit Shah said on Monday.
Formally launching Modi's campaign in the constituency by inaugurating a swanky election office in Varanasi, the BJP PM nominee's pointsman in UP claimed it was a "one sided" contest and Modi will win "by the biggest ever margin" in the country's electoral history.
"The next government at the the centre will be formed by NDA and its foundation will be laid down from Uttar Pradesh as well as Benaras (Varanasi)," Shah said addressing his maiden press conference since he was appointed last year as in-charge of Uttar Pradesh, a crucial state in the poll arithmetic as it sends 80 MPs to Lok Sabha.
He also distanced the party from slogans supporting Modi prepared by twisting religious chants which have sparked fears of communal polarisation, saying the party was not taken into confidence and such things should not be done.
Shah remarked that the slogan 'Yeh to pahli jhanki hai, Kashi Mathura baaki hai' that did the rounds after the Babri Masjid demolition at Ayodhya, has 'never been a slogan of the BJP'.
The BJP is also under attack for party workers using slogans like "Har Har Modi, ghar ghar Modi" and "Kan kan mein Modi..."
The prime ministerial candidate contesting from here will "not just influence the purvanchal region of UP but also help in winning the seats in bordering Bihar region," Shah said.
Shah skirted questions on whether Modi will give up Varanasi seat as he is also contesting from Vadodara in his home state of Gujarat, in case he wins from both the constituencies.
"The decision will be taken by BJP. The party will also keep in mind the issue of Varanasi's development (while deciding on which seat Modi will retain)," he said.
He said even before Modi's name was announced from Varanasi, the BJP's prime ministerial candidate had visited the city and took cognisance of pollution in river Ganga and the poor urban infrastructure.
"The high points of Modi's rule in Gujarat is cleaning up of rivers and improving the urban infrastructure. I am sure Varanasi will benefit from his experience," Shah said.
He dismissed the issued of expulsion of BJP veteran Jaswant Singh for contesting as an Independent from Barmer, saying when chances of winning from a particular seat are high, then the "line" of those who wish to contest becomes longer.
"We should not give much importance to it. This happens in every election. You can check your records," he said.
On questions that Congress is yet to decide its candidate from Varanasi, he said it should be put to Congress President Sonia Gandhi.
"Modi's decision to himself contest from Varanasi is a matter of pride for all of us who have been active in UP. We are going to win the maximum number of seats here though I do not wish to speculate on numbers.
"I am confident that our stellar performance in UP will will enable us to achieve majority and form a strong and stable government at the Centre," the former Gujarat home minister said.
Shah said said the BJP prime ministerial candidate's decision to contest from here was "symbolic of the desire to establish a connect with the entire country as Varanasi can be called mini India where people from every part of the country reside or come for pilgrimage".
Replying to a query, Shah said that although Modi came from Gujarat he was well aware of Varanasi's problems and "his track-record as chief minister wherein he has won praise from all sides for his work in urban planning and river purification demonstrates that he is capable of solving the problems here".
Shah claimed BJP would win all 10 seats which will go to polls on April 10 as in "all castes, communities and cultures there
The BJP leader said it was for the first time that such a wave is seen in favour of any individual and it will lead to change of government.
"In the country people want change, this change would take place in the form of Modi by BJP," he said adding that the common man was reeling under rising prices.
To a question on when Modi would visit Varanasi, Shah said that it would be known in a day or two.
When asked whether his party would change some candidates in the state, he said that discussions were on only for Fatehpur seat.
Image: Amit Shah