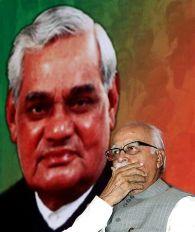 Known to be close and loyal to Bharatiya Janata Party veteran and former prime minister Atal Bihari Vajpayee, senior BJP leader and four time MP Lal Muni Choubey on Monday announced that he would contest as an independent from Buxar.

Choubey was upset after he was denied ticket to contest the Lok Sabha polls.

"I have quit the BJP and will contest as an independent from the Buxar seat," Choubey said at a press conference.

Choubey said he will campaign against BJP's prime ministerial candidate Narendra Modi, who is contesting from Varanasi. "I will visit Varanasi to campaign against Modi in Varanasi, my next home," he said.

He said he was hurt by the way BJP was treating its stalwarts like Vajpayee, L K Advani and Jaswant Singh. "I cannot tolerate this humiliation," said Choubey, who was hurt after being denied a BJP ticket from Buxar to contest the polls.

Vajpayee is being treated like a living dead, while Advaniji and Jaswantji have
been ignored, he said.

Choubey said he never was a member of the Rashtriya Swayamsevak Sangh and had nothing to do with it.

Choubey said that he did not consider Rajnath Singh as the BJP president as he was a slave president.
Choubey was elected for the first time from Buxar Parliamentary constituency in 1996. He represented the seat continuously till 2009, when he lost to RJD leader Jagadanand Singh by 2,000 votes.

Meanwhile, Aam Aadmi Party candidate from Patna Sahib constituency in Patna, Perveen Amanullah was shown black flags on Monday by a group of AAP workers who are opposing her candidature.

Angry AAP workers also staged protests against her candidature and forcibly stopped her vehicle when she was on her way to file her nomination papers.
The protestors accused AAP leaders in Delhi of neglecting local party workers while selecting a candidate for the seat.

AAP leader Manish Sisodia was accompanying Amanullah when she faced angry opposition by AAP workers.

Amanullah downplayed the incident as the handiwork of her rivals. "I am confidant and sure to defeat sitting BJP MP Shatrughan Sinha," she said.

Amanullah, who hit headlines last month when she quit Bihar Chief Minister Nitish Kumar's cabinet in Bihar and joined the AAP. "I am fully confidant and sure to win the polls from Patna Sahib by defeating Shatrughan Sinha," Amanullah, an RTI activist-turned-politician said on Sunday.
Image: BJP veterans Atal Bihari Vajpayee and L K Advani
Follow the latest election updates on Twitter: @RediffElections