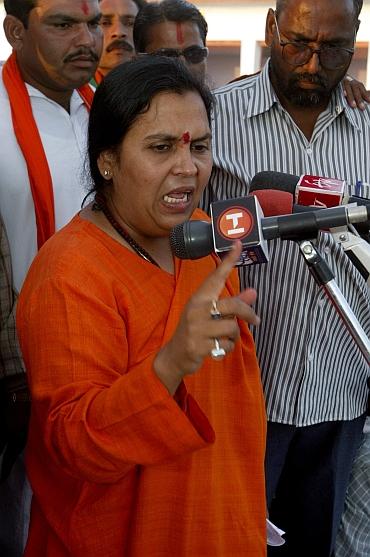 Firebrand Bharatiya Janata Party leader Umar Bharti maintained on Monday that the party's prime ministerial candidate Narendra Modi does not have the oratorical skills of (former prime minister) Atal Bihar Vajpayee, but said the Gujarat chief minister was a "unique person" who draws massive crowd.
Addressing party workers at Kunj Vatika in Jhansi on Sunday night, Bharti had said, "Vajpayeeji was a very good orator.. it is said that there has been no other orator like him in Indian politics.
"If you have observed minutely you would have found that Modi is not a good orator but still people are coming to his rallies not to listen but to tell him that they want him to change this country and they support him," she said.
Seeking to clarify her statement on Monday, Bharti said Modi is country's "anokha" (unique) person who draws massive crowd.
"All that I said about Narendra Modi, I will repeat it again. The same thing that A B Vajpayee was a good orator but Narendra Modi is country's 'anokha' (unique) person after years in whose support lakhs and lakhs turn up. This is what I had said," she said.
Speaking at the meet, Bharti had also accused the Congress and Samajwadi Party of betraying Muslims.
She had said that her party does not consider Muslims as mere vote bank and that nationalist Muslims are standing with the BJP in these elections.
On the demand for a new Bundelkhand state, she said the Congress and Mayawati were only interested in politics on the issue whereas BJP-ruled Madhya Pradesh has already created a separate unit for it and promised that on coming to power the face of Bundelkhand region would be changed.
She charged Mayawati and SP leader Mulayam Singh with supporting Congress due to the fear of the Central Bureau of Investigation.