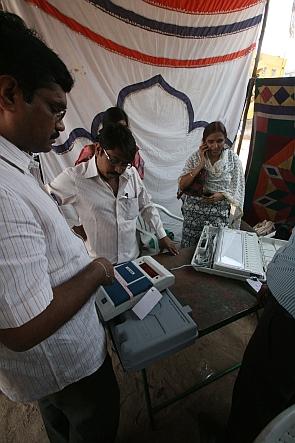 Wednesday is a historic day for the 2.8 crore voters from Telangana, as they exercise their franchise for electing the first government of the new state that will formally come into existence on June 2.
It is the last time that they will be voting in unified Andhra Pradesh deciding the fate of 1,669 candidates contesting in the 119 assembly seats and 17 Lok Sabha seats.
"The June 2 bifurcation is just a formality and we are voting for our new government in a new state," said Gangi Reddy, who was among the early voters in Hyderabad.

The stakes are high and although it is appears like a direct contest between the Telangana Rashtra Samithi and the Congress, it would be interesting to see the impact of the Bharatiya Janata Party-Telugu Desam Party alliance.
Exit polls suggest an impressive victory for TRS led by K Chandrasekhar Rao, who was at the forefront of the campaign for Telangana.
The Majlis-e-Ittehadul Muslimeen is another key player in Telangana and although it is expected to sweep the Muslim votes, the party's performance in the constituencies other than Hyderabad is keenly watched.
The big guns in the fray are TRS chief K Chandrasekara Rao from Medak, Jaipal Reddy of the Congress from Mahabubnagar and Sarve Sathyanarayana of the Congress who is up against Lok Satta boss Jayaprakash Narayan in Malkajgiri. KCR's daughter Kavita is contesting from Nizambad and MIM President Asaduddin Owaisi from Hyderabad.
Security in the region has been tightened following an intelligence alert of a possible Naxal attack. Taking nothing to chance, 9,000 police personnel have been deployed across the state along with 158 paramilitary companies and four Indian Air Force choppers.
Polling started in 30,518 booths in the region and taking into consideration the high stakes involved in the battle the Election Commission has introduced 4,000 flying squads.
The excitement in the air on voting day cannot be missed. "We are electing a government for our new state and this itself is a great feeling," said Prithviraj Rao, a local.

"We will vote for a party which is capable of understanding the needs of the people of Telangana and who will ensure that there is all-round progress in the years to come. There is a lot of work to be done by any party, which forms the government in Telangana," he pointed out.

Image: Polling officials prepare for Telangana's first assembly elections on Tuesday, a day before the polls

Photograph: SnapsIndia