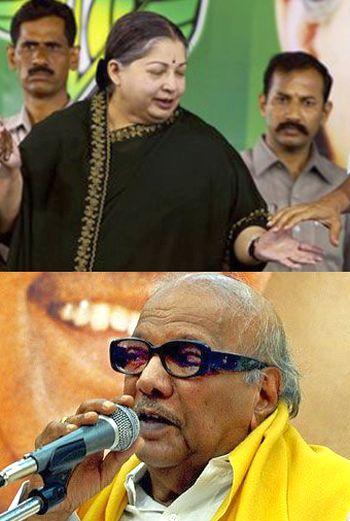 The single-phase polling for 39 Lok Sabha seats in Tamil Nadu on Thursday will test the capabilities of the ruling All India Anna Dravida Munnetra Kazhagam, its rival, the Dravidra Munnetra Kazhagam, and the Bharatiya Janata Party, which hopes to ride on the Modi wave after drawing a blank in the previous two polls.
Chief Minister J Jayalalithaa-led AIADMK, which is contesting from all 39 seats, has pumped all its resources into this high-stake election, as it is firm on extending its winning streak and propel the party supremo on to the national political arena and help enable her to realise her aspirations as a national leader.
Complete Coverage: Election 2014
Dethroned in 2011 and battered by a sibling war between his two sons, DMK patriarch M Karunanidhi is working hard to revive the electoral fortunes of his party after consciously dumping its decade-old ally Congress, fearing its anti-incumbency factor.
The DMK's success in this election also rests on the stand adopted by Karunanidhi's son Alagiri adopts, as the latter has been vocal on the issue that DMK candidates, especially in Virudhunagar, Theni and Thanjavur, should lose. Also, in a bid to net minority and Dalit votes, the DMK, contesting from 35 constituencies, has allied with local players such as Viduthalai Chiruthaigal Katchi, Manithaneya Makkal Katchi, Indian Union Muslim League and the Puthiya Tamizhagam and handed them four seats to contest from.
The BJP, which has managed a six-party rainbow alliance, roping in cine star-turned-politician Vijayakant's Desiya Murpokku Dravida Kazhagam, Vanniyar community-backed Paattali Makkal Katchi among others, expects the combine to pose a hurdle for AIADMK and DMK in some constituencies, having presented a third alternative.
The saffron party, riding on the Modi wave and the support base enjoyed by its allies, has been dreaming of sending MPs to the Lok Sabha after a long time from Tamil Nadu, where its run remained on a barren stretch so far after the AIADMK and DMK kept away from it.
Notwithstanding the outcome, the BJP, by forming an alliance, has scored a point over its national rival the Congress, which has been left to fend for itself, being isolated by all parties in the state.
Issues matter
And in an attempt to woo voters, the parties have been doing all that they can and making promises they hope to fulfill once they come to power. Jayalalithaa has been banking on her government's pro-poor schemes like subsidised canteens, bottled water at cheaper rates and distribution of freebies like mixer grinders and milch animals started three years ago
On the other hand, the DMK has been raising issues like the acute drinking water shortage, sale of bottle water and power shortage to attack the state government.