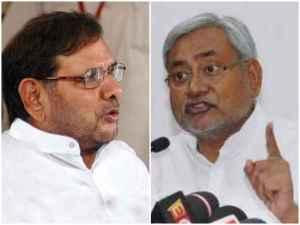 In a major embarrassment to Bihar Chief Minister Nitish Kumar's development politics, his party colleague Janata Dal-United president Sharad Yadav has accused him of not coming out of caste politics.

The former National Democratic Alliance convenor, who is contesting Lok Sabha polls from Madhepura, a Yadav-dominated parliamentary constituency in Bihar, during an election meeting in Muzaffarpur accused Kumar and rival Rashtriya Janata Dal supremo Lalu Prasad Yadav of not coming out of caste-based politics.

"Both have pursued the politics of caste. I am taking responsibility for the pathetic condition of the state because I helped Lalu and Nitish in governing Bihar. Unfortunately, both believe in caste-based politics," Yadav said at the rally.

Yadav further claimed that it was he who made both of them the chief minister of the state.
Yadav said that Bihar has seen the iconic leaders like Karpoori Thakur, "a true socialist and a mass leader". "But look at what Lalu did during his 15-years of rule from 1990 to 2005. He destroyed totally the pride and dignity of the state. Even Chief Minister Nitish Kumar has followed the Lalu's path in politics," he said.
No JD-U leader has so far commented on Sharad Yadav's remarks.
Image: Sharad Yadav and Nitish Kumar