TDP chief Chandrababu Naidu's sister-in-law Purandeswari maybe fighting a losing battle in Rajampet, says Vicky Nanjappa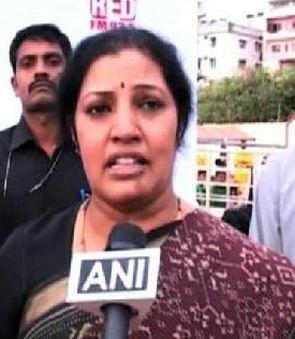 Former Andhra Pradesh chief minister N T Rama Rao's daughter Daggubati Purandeswari is on the back foot in Andhra Pradesh.
Purandeswari is fighting from the Rajampet constituency on a BJP ticket and as per an agreement with the TDP, she expects a support from the local cadre.
But her rift with brother-in-law and Telugu Desam Party chief Chandrababu Naidu is well-known and this many feel will work against her.
However, this is not the only worry for the two-time MP. Rajampet falls under Kadapa, which is a stronghold of former chief minister Y S Rajasekhara Reddy and the YSR Congress party.
Purandeswari is considered an outsider in this constituency. She hails from Krishna district and is fighting in a constituency dominated by the Reddy and Balija votes. She hails from the Kamma community, which does not have a strong presence in the region, and her father's legacy is not going to be enough to rescue her.
Her campaign looks lacklustre and it appears that this seat was handed over to her because the BJP did not have any other candidate. Moreover, the TDP too did not want this constituency as part of the seat sharing arrangement as it is considered a losing constituency.
For Purandeswari too, Rajampet was not the first choice. She was earlier with the Congress and had won the Bapatla and Visakhapatnam Lok Sabha constituencies in the past. She quit the Congress after the bifurcation of the state. She had initially sought to contest from the Visakhapatnam or Vijayawada seat where she felt she had a good chance.
In Visakhapatnam, the BJP insisted that the seat be given to their chief Haribabu and in Vijayawada the TDP was not willing to let go. Purandeshwari insisted that she wanted to contest and as a last resort Rajampet was handed to her.
Soon after she filed her nomination, Chandrababu Naidu openly stated that the BJP had fielded weak candidates and even went to the extent of trying to break the alliance with the BJP.
Purandeswari is the sister of Bhuvaneshwari, Naidu's wife. The rift between Purandeshwari and Naidu widened when the latter allegedly sidelined her family. Her husband, Venkateshwara Rao, who was with Naidu when he toppled NTR, later felt that he was being sidelined. This led to the rift. Ironically, there was no rift between Purandeshwari and Naidu when the latter toppled the NTR government in 1995.
But the TDP cadre in Rajampet say they will support her. "We do not know about personal differences, but as part of the arrangement we will support her," say TDP workers. The TDP is not entirely comfortable supporting her but due to political compulsions they cannot go against her openly.
Several political analysts feel that it is not fair to call her a weak candidate, but they agree that she does not stand a good chance from the constituency she is fighting from.
They feel that if she had been given Vishakhapatnam, she could have done better. Although she would have been pitted against YSR Congress' Vijayamma, the margin of victory would have been reduced by a great number.
In Rajampet, Purandeswari is up against six-time winner, Sai Prathap of the Congress and Mithun Reddy of the YSR Congress party. While the chances of Sai Prathap seem weak -- due to anti-incumbency and the bifurcation issue -- Mithun Reddy has a strong chance of winning.
There are 7 assembly segments in Rajampet and all surveys show YSR Congress making a clean sweep. These constituencies that fall under Kadapa district have always been a YSR strong hold. Kadapa district which has been re-named YSR district also goes to show the kind of support the party has here.
A close friend of Purandeswari says it is unfortunate that she has become a victim. "Purandeswari is a good human being and is a wonderful leader, who is soft spoken and friendly. She ought to have been given a better seat to serve the people," she says.
"The BJP would do well to use her extensively in other seats especially in the strong Kamma belts where she will be able to make a huge difference to the candidates from her party," added the friend.
Image: BJP leader Daggubati Purandeswari
Photograph: Courtesy ANI